We introduce Bitrix24 and Terrasoft-powered solutions, such as:
● Intranet portals;
● Corporate social networks;
● CRMs;
● Project workflow automation. 

You enjoy:
● Best quality/price offer;
● 6 months warranty on delivered projects;
● Technical support and advisory services;
● Product training. 

We guarantee the quality of our work:
● Corporate portals are implemented based on the quality management system certified according to ISO 9001:2015;
● As part of the Project Quality Assurance programme, all completed projects undergo a vendor check;
● Each developer and specialist in our team has a certified knowledge of the products that we implement. 

Creatio (bpm'online)
Technologies for easy, quick and flexible configuration of any business processes

Advantages:
● Intelligent technologies that can do the users' work;
● Out-of-the-box automation solutions for the business needs;
● Low-code custom tools for the system setup and configuration. 

Based on your needs, we will develop full-fledged add-ons and connectors to different systems that can be quickly installed and brought into play. Their user-friendly interface and intelligent technologies are key facilitators that help your employees quickly embrace the system.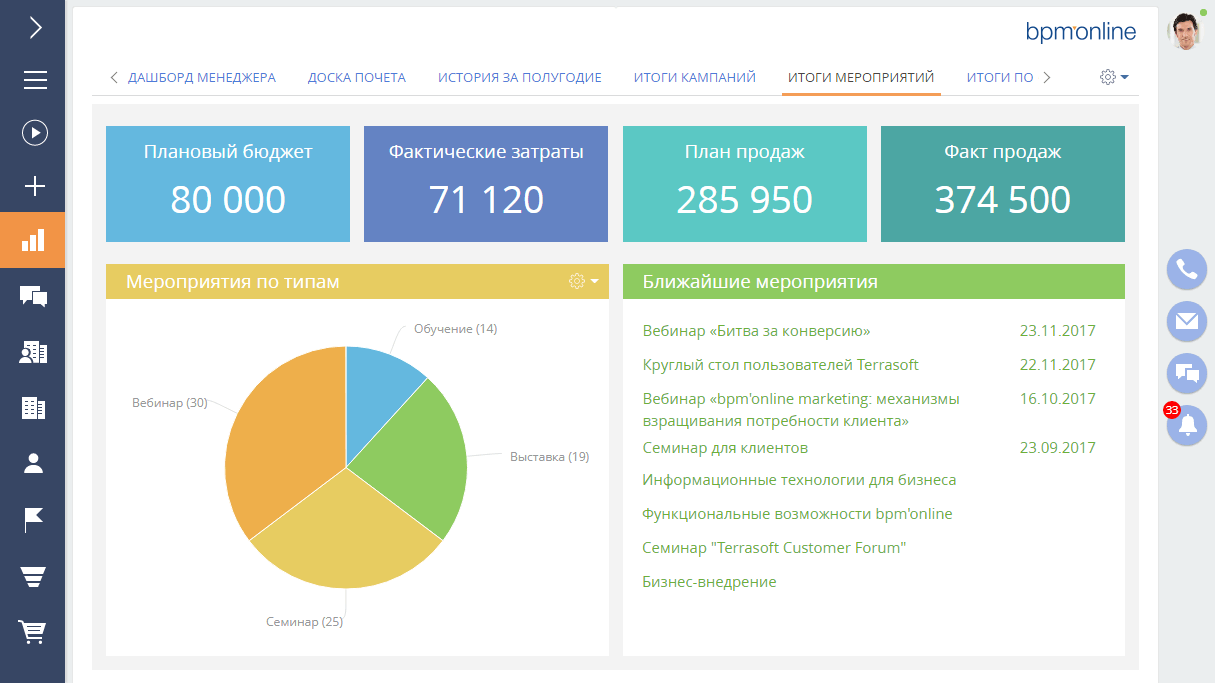 Sales CREATIO (bpm'online)
A CRM-system for the advanced management of all types of sales from one-off short-term orders to continuous long-term corporate transactions . Offers out-of-the-box processes to manage the entire sales cycle.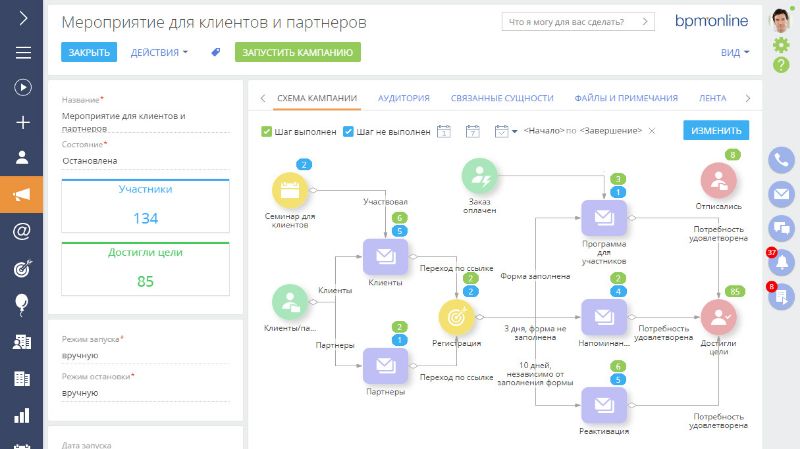 Marketing CREATIO (bpm'online)
A marketing platform for multi-channel communications. It helps identify and nurture customer needs employing all available channels.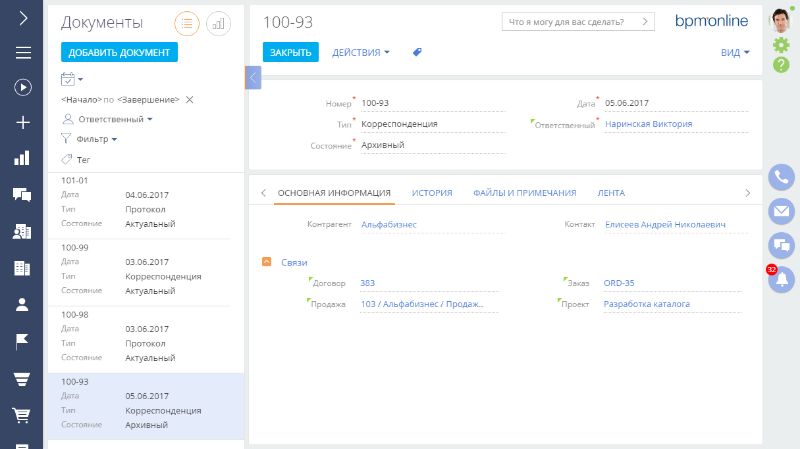 Service CREATIO (bpm'online)
Out-of-the-box processes for full-cycle service management across all communication channels. It includes customer service management and a shared service center.

Bitrix24
Every business task already has a perfectly matching tool, which guarantees maximum efficiency of your Company.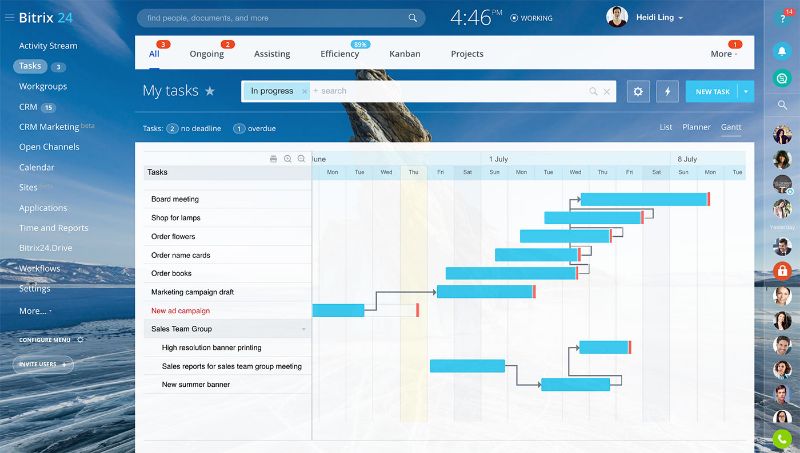 Bitrix24.Tasks and Projects
A system that facilitates teamwork and on-time performance. Ideal for project management – enables your team to keep track of the tiniest details. Seamless task handling, counters , team roles, performance tracking, voice assistants, robot assistants and a lot more.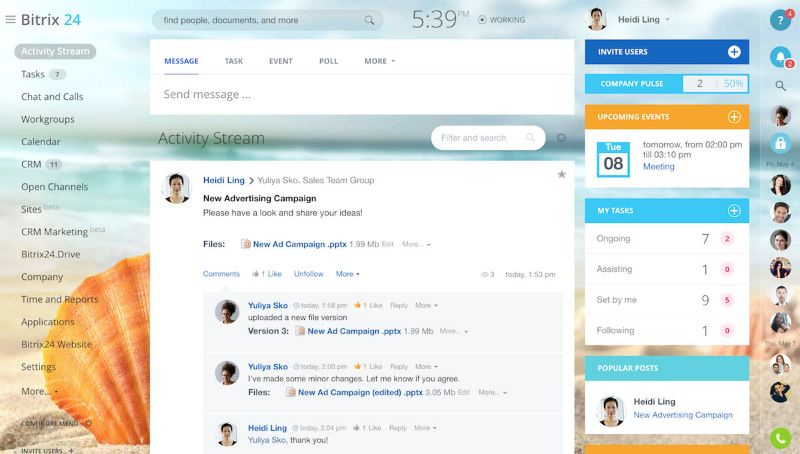 Bitrix24.Office
A single communication platform for a company. By integrating it, you bring together your messenger, drive, calendar, groups, work reports, business processes and other tools for teamwork.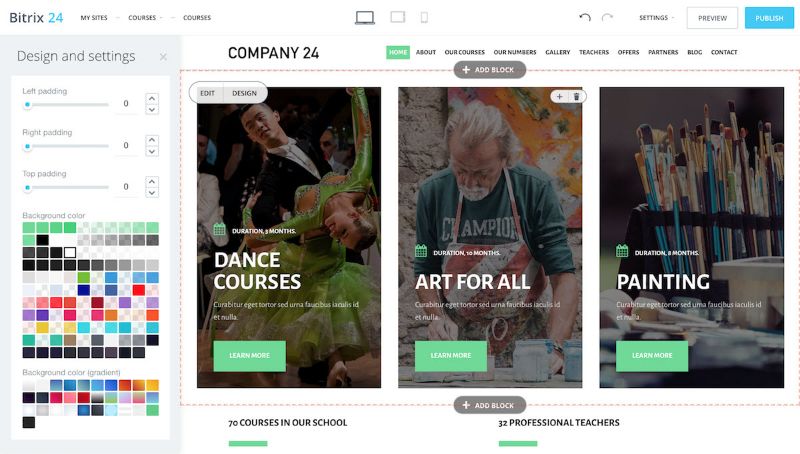 Bitrix24.Websites and shops
A website and online store builder that requires no hosting: all systems go. It features templates, texts, background, images, photo gallery, schedule, as well as online chat, callback and an application form. The site comes with a cross-platform UI and is already integrated with the CRM.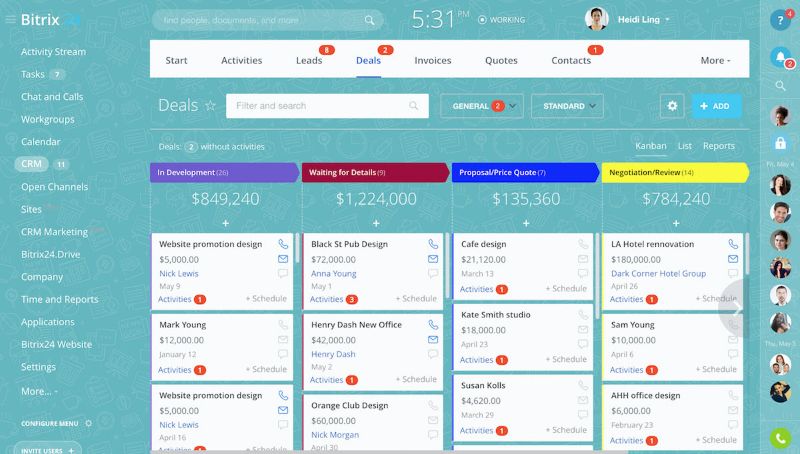 Bitrix24.CRM
A system that manages sales and communications with customers. It enables you to gain control over all calls, mails, chats with clients on the website and in social networks. Sales funnel, the entire transaction history, mailings, sales plan, documents are stored in one place. It'll take no more than 15 minutes to create a landing page or a website, deliver an analytical report, and the programmed robots themselves will send letters to customers and assign tasks to managers.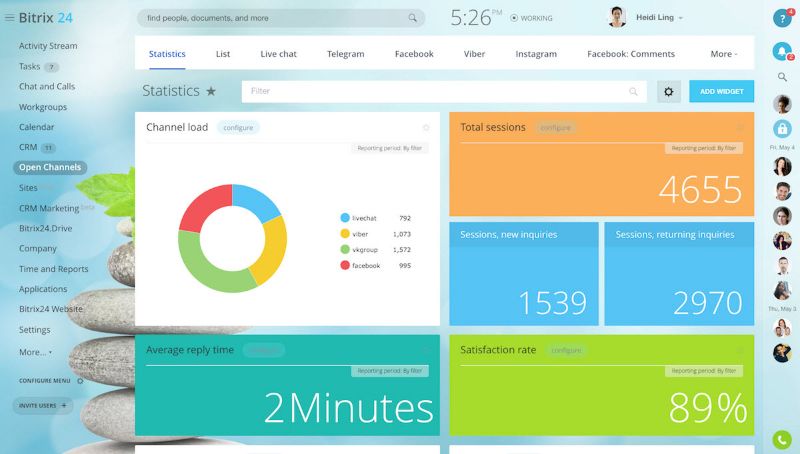 Bitrix24.Contact Centre
An integrated system for communication with customers. It collects data from chats with clients across all channels, including social networks, and sends it to a shared chat where you can reply to client's inquiries. It features handy distribution of incoming calls and messages, an answerphone, an managers' performance appraisal, automatic reports on the employee workload, data transfer from questionnaires directly to the system, etc.
How we deliver
The implementation is done the following way:
● We analyse customer's requirements;
● We suggest a platform where the solution can be quickly implemented in the most efficient way;
● We split up the project into stages (1 stage lasts approximately 1 month);
● Within each stage we draft the detailed scope of work, coordinate its approval. Then we develop the functionality, test it, transfer it to the client's server, perform an acceptance test and the client training;
● The result of each iteration is a gradual increase in functionality.

Just a month later you will see the changes powered by automation. And based on your feedback we'll adjust the functionality.

Such methodology enables:
● shorter system implementation time by 45%;
● lower implementation costs by 20-35%;
● higher engagement of the company's employees into the implementation;
● higher efficiency in the post-implementation stage, up to 40%. 

Address
Moscow, Novodmitrovskaya str., house 5A, p. 11